It's been suggested that we have a place to introduce ourselves. I'll start.
I live in Victoria, in south-eastern Australia, just under the second highest mountain in our land (which isn't high by world standards). I spent much of my childhood in a small town the next valley over which, at the time, was a centre for tobacco and hop growing (tobacco and beer). I studied and spent much of my working life in Melbourne, with some years in Adelaide, and did the obligatory time traveling the world in my late adolescence/early adulthood.
Reading comments on a share trading forum is what got me started talking about climate. I'd never before come across conspiracy theorists en masse. On the one hand I was fascinated by their drive to tell the world about their latest conspiracy, and how proudly they wore their ignorance. On the other, I was spurred to respond - in the fashion of "seeing something wrong on the internet".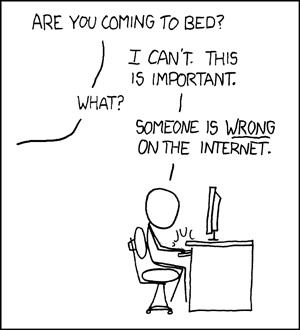 When I started replying I very quickly realised that there was a lot I didn't know either. That got me researching climate science. I discovered vast resources on the internet, including information rich websites of the R&D institutions, weather/climate agencies, and universities etc, as well as climate bloggers.
So really, you can credit science deniers for the creation of Sou and HotWhopper